DIY: Busenkel kombucha
Något av det trendigaste man kan dricka!!! Vi pratar kombucha; drycken som säljs för 35-40 kronor per flaska i handeln. Men varför köpa dyrt när man kan göra själv? Kombucha är nämligen inga konstigheter och ingredienserna är busbilliga. I det här smarta receptet slipper du dessutom köpa en kombuchamoder.
Vad är kombucha?
Kombucha är en fermenterad sötad dryck, baserad på svart te. Drycken har lågt alkoholinnehåll (cirka 0,5%). För att göra drycken behöver du även en kombuchakultur som producerar vad som brukar kallas kombucha-svamp, Volga-svamp, te-svamp, moder eller scoby (kärt barn har många namn) – en geléaktig matta av cellulosa som med tiden växer sig till något som liknar en manet eller en stor äcklig fettpropp från avloppsröret.
Ursprung
Gamla källor visar att redan för 2 200 år sedan drack man kombucha. Ursprunget anses vara från norra Kina. Namnet Kombucha kommer dock från den koreanska naturläkaren Kom-bu som introducerade drycken till den japanska kejsaren Ingyō 414 e.v.t. där drycken snabbt blev populär hos kejsarfamiljen och i krigarklassen. Ryssland är ett annat land där man gärna dricker kombucha, dit kom den dock först under det Rysk-Japanska kriget 1904–1905.
Hälsa
Kombucha brukar marknadsföras som probiotisk (att den innehåller levande bakterier som påstås vara gynnsamma för hälsan). Studier på möss och råttor har visat antimikrobiella, antioxidativa, leverskyddande och cancerförebyggande effekter (dock har inga studier gjorts på människor). Effekter av kombucha tillskrivs framför allt förekomsten av ättiksyra, men även den generellt höga syranivån.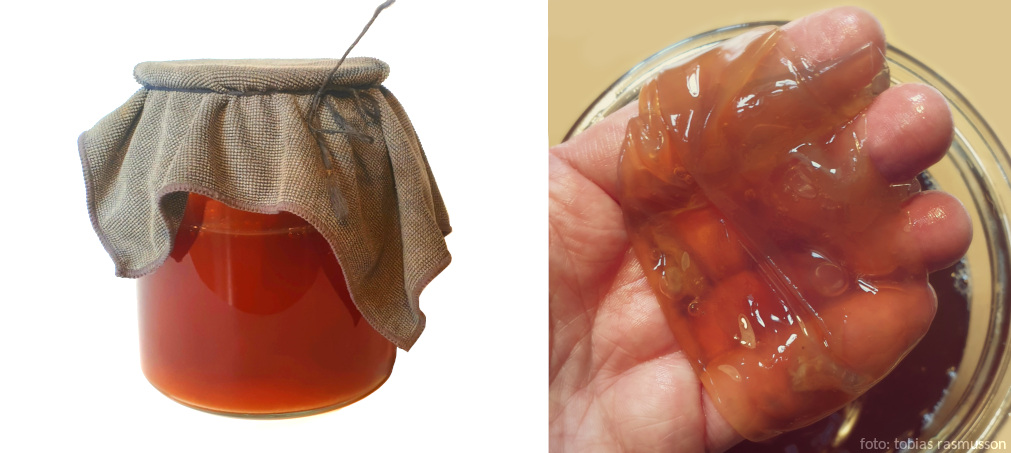 För att göra kombucha behöver man en så kallad "moder" (den där svampen som jag pratade om i inledningen), sådana går att köpa och brukar kosta kring 200 kronor. Men varför göra det? Faktum är att man kan lätt göra sin egen dryck utan att postordra efter en sån. Följ nedanstående anvisningar så har du din egentillverkade kombucha inom några veckor (fermenteringsprocessen tar sin tid och det går liksom inte att komma ifrån). Dock sköter sig det mesta själv när du väl kommit igång:
Kombucha startkit – du behöver:
Ingredienser:
En matsked lösviktste eller 2 tepåsar,

ej smaksatt

, exempelvis English Breakfast men

skippa Earl Grey

som innehåller eteriska oljor. Använd gärna ekologiskt te då besprutningmedel och andra tillsatsmedel kan riskera hämma processen.
1 liter vatten.
En halv deciliter socker.
1 flaska ofiltrerad naturell kombucha (Ofiltrerad kombucha hittar du i kyldisken. Se upp för fejkvarianter och använd gärna en kombucha från en mindre och lokal producent (själv brukar jag använda Roots of Malmö eller The Fermenting Jar). Extra plus är om du hittar någon som redan har börjat bilda kultur redan i flaskan.
Utrustning:
Fermenteringskärl i

glas, rostfritt stål eller livsmedelsgodkänd plast

med stor öppning. (Använd

aldrig kärl av keramik

då farliga tungmetaller riskerar lösas upp).
Diskhanduk (eller annan luftgenomsläppande duk att täcka fermenteringskärlet med).
Gummiband (alternativt snöre).
Flaskor med bygelkork.
Konserveringsburk med bygellock (för att kunna förvara din färdiga svamp i när drycken är klar).
En sked/slev (att röra med).
Hygien är viktigt: börja med att diska och därefter sterilisera fermenteringskärl, flaskor och konserveringsburk i ugnen, 10 min i 110 grader. (Eventuella smältbara delar som exempelvis gummipackningar steriliseras i 10 min i kokhett vatten).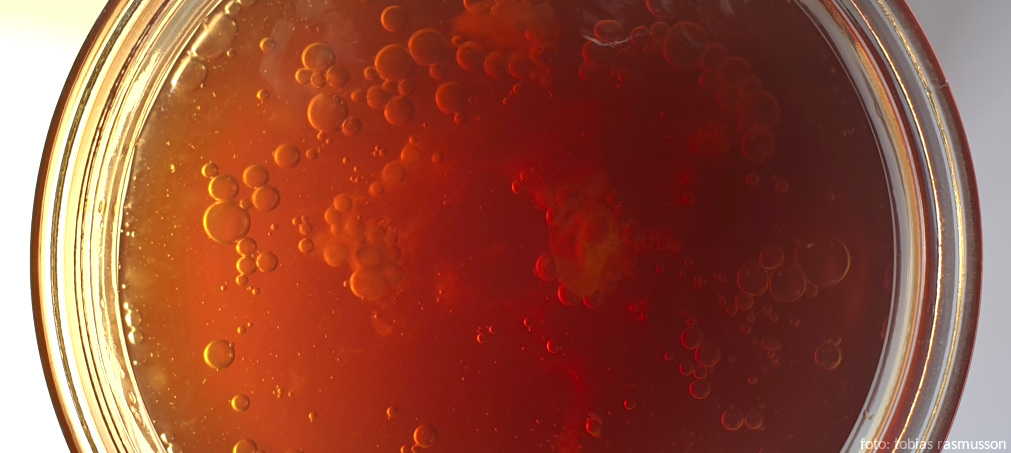 Så gör du din egen kombucha
1. Koka te
Koka vattnet i en gryta tillsammans med te i cirka 6-8 minuter (slutresultatet ska vara ett starkt te). Jag brukar använda tepåsar eller lös-te i en tesil som jag ömsom rör runt i grytan med tills jag uppnått en fin färg. Tillsätt socker och rör runt med en slev tills allt löst upp sig (cirka 4 minuter).
2. Kyl ner ditt te
För att skynda på processen kan du ställa grytan utomhus med lock på alternativ ställa den i diskhon med iskallt vatten tills den är rumstempererad (är den varmare än så riskerar bakteriekulturen kola vippen).
3. Blanda i kombucha
Skaka lätt en flaska kombucha (så även bottensatsen följer med) och häll den i ditt fermenteringskärl. Tillsätt därefter mellan tre (3:1) till fem gånger (5:1) så mycket av teblandningen. Täck över kärlet med en handduk och och säkra den med ett gummiband eller snöre (så att inte smuts, flugor eller andra ovälkomna filurer hamnar i blandningen).
4. Börja fermenteringsprocessen
Placera behållaren på en varm plats, idealtemperaturen är några grader över rumstemperatur – ju varmare desto snabbare process (dock klarar den inte över 30 grader). Låt stå i 3-4 veckor tills en ca 0,5 cm tjock kombuchakultur har bildats på ytan och drycken har fått en lätt vinägerdoft. (Vill du smaksätta din kombucha så går det bra att göra det nu. Lägg i exempelvis frukt, bär eller ingefära och låt stå ytterligare ca 24 timmar).
Häll sedan över din drycken på bygelflaskor (detta av anledningen att vanliga korkar gör att kolsyretrycket riskerar att spränga flaskorna). Tillsätt gärna lite socker i varje flaska så ökar kolsyremängden och du får en sötare (godare) dryck. Låt stå ett dygn i rumstemperatur för att öka kolsyremängden. Förvara därefter i kylskåp (så saktas fermenteringsprocessen ner).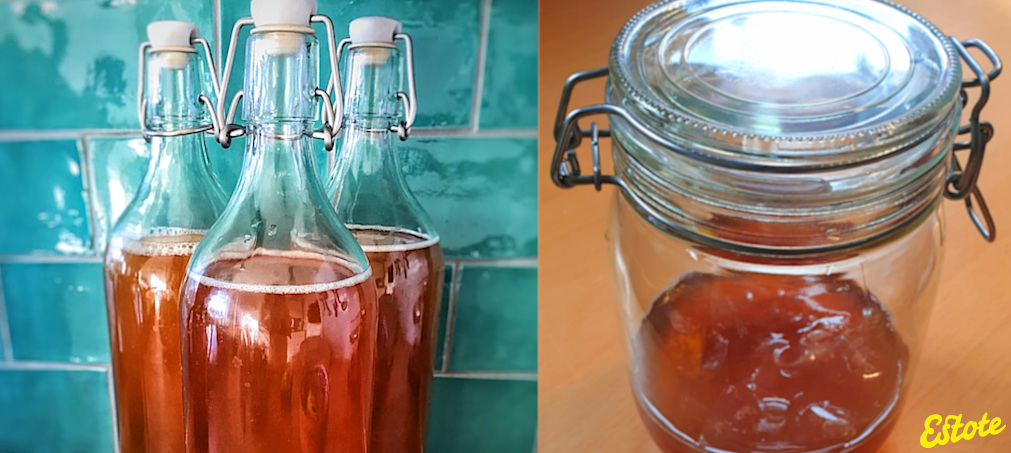 5. Spara och gör ny kombucha
Häll över din kultur/svamp i en konserveringsburk med bygellock (av samma anledning som flaskorna) och fyll upp med kombuchadryck så att svampen täcks (dock minst 2-3 dl). Lagra i kylskåp. Med tiden kommer en vuxnare moder att utvecklas, den ser ut ganska oaptitlig ut men är säkert hur schysst som helst (skulle den lukta pekka eller är full av mögel ska den förstås slängas, något som i så fall brukar bero på att man har slarvat med hygienen). Mata gärna din kultur med lite socker någon gång då och då för att hålla den vid liv.
När du ska göra en ny sats börjar du med att göra en teblandning. Dela därefter modern i hälften (så får du en reserv om något skulle knasa till sig alternativt kan du dela den med vänner som också är sugna på att göra egen kombucha). Tillsätt halvmodern och 2-3 dl kombuchan i din rumstempererade teblandning (allt enligt receptet ovan). Processen denna gång kommer dock att gå snabbare, räkna med 5 -7 dagar tills du har en färdig kombucha, dessutom kommer den att bli ännu godare och allt eftersom din svamp växer kan du göra större satser.
Läs även: Supernyttig fermenterad lemonad


Dela:
[social_share_list]