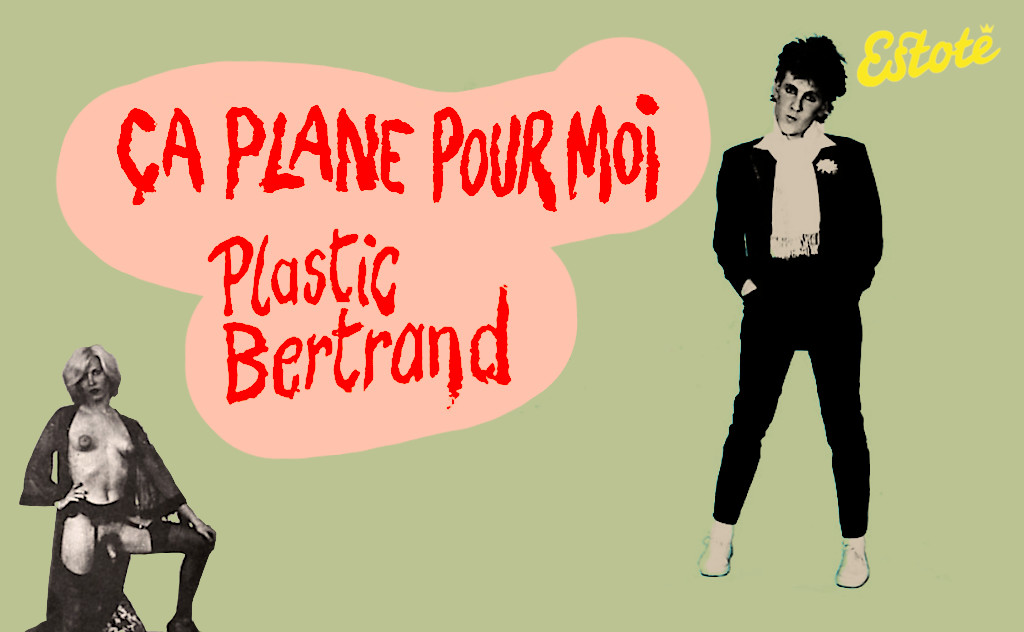 Skandallåten "Ça plane pour moi"
Världens bästa (pop-)punklåt: Ça plane pour moi – en märklig historia fylld av ingredienser som anti-punk, minderårig gay-sex, artistlurendrejeri och blåsningar.
a
Lou Deprijck: Från sambadisco till punkhit
Vi tar det från början: Under 70-talet hade Two Man Sound, ett band som kombinerade disco med samba och bossa nova, framgång med låten "Charlie Brown" som gick upp på listorna i Belgien och Italien (1975) och "Disco Samba" (1977). Medlem i gruppen var en kille vid namn Lou Deprijck, han hade inte mycket till övers för den nya musikstilen kallad punk. Lou Deprijck såg dock framgången musiken hade, inte minst band som The Clash och Sex Pistols gjorde stor succé. Deprijck kom då på idén att göra en pastisch på genren. Han slängde ihop några passande ackord och samlade ihop ett gäng studiomusiker; Mike Butcher (gitarr), John Valcke (bas) och Bob Dartsch (trummor) som spelade in låten på rekordtid.
ARVE Error: Mode: lazyload not available (ARVE Pro not active?), switching to normal mode

Version 1: 15-åring har gaysex
Vem som skulle göra låten hade man inte riktigt klart för sig från början. Vid samma tidpunkt som låten gjordes hade Alan Ward, tidigare medlem i det engelska glam-punkbandet Bastard (där även Brian James, senare gitarrist i Damned ingick), fått ett solokontrakt med det belgiska skivbolaget Pinnball. Ward som nu gick under artistnamnet Elton Motello, fick höra låten, gillade den och lät göra en engelsk text till låten, en text som stack ut, inte minst 1977, texten beskriver öppet ett homosexuellt förhållande där en 15-årig kille har sex med en annan kille: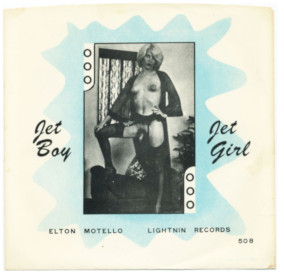 Can you tell what's on my mind? / She's with him, it drives me wild /
I'd like to hit him on the head / until he's dead / The sight of blood is such a high / Ooh, hoo, hoo, hoo / He gives me head
We made it on a ballroom blitz / I took his arm and kissed his lips
He looked at me with such a smile / my face turned red / We booked a room into the Ritz / Ooh, hoo, hoo, hoo / He gives me head
Jet boy, jet girl / Gonna take you 'round the world
Jet boy I'm gonna make him penetrate / I'm gonna make you be a girl
Ooh, hoo, hoo, hoo / Jet boy jet girl
And though I'm only just fifteen / I like to kick, I like to scream
And even if I have a kick or two in bed / When I'm with him it's just a dream / Ooh, hoo, hoo, hoo / He gives me head
Jet boy, jet girl / Gonna take you 'round the world (osv)
The other day, what a surprise / I saw him with some other guys
God he was dressed up / with a girl around his neck / I could have cried with both my eyes / Ooh, hoo, hoo, hoo / He gave me head
And if or when I make it through / Or if my brain is stuck on glue
And when the world tries to forget / all that I've said / I'll still remember you
Ooh, hoo, hoo, hoo / You gave me head
Jet boy, jet girl / Gonna take you 'round the world (osv)
Jet boy jet girl släpptes i oktober 1977.
ARVE Error: Mode: lazyload not available (ARVE Pro not active?), switching to normal mode

Elton Motello – Jet Boy Jet Girl
Version 2: Wham! Bam! King of the Divan
Även om Elton Motellos version inte fick några större framgångar tyckte Deprijck att låten hade potential och ville därför släppa den i en fransk version (för hemmamarknaden). Vad man saknade var dock en karismatisk artist som kunde framföra låten. Detta fann man snart i belgaren Roger Jouret, trummis och sångare i punkbandet Hubble Bubble, som precis splittrats eftersom gruppens basist omkommit i en olycka efter att han repat. Humble Bubbles manager Bernard Schol presenterade Roger Jouret för Lou Deprijck som tyckte att han passade utmärkt i rollen med sin excentriska stil. Och varför spela in musiken igen när den redan fanns inspelad? Snabbt och enkelt: 

Den franska versionen släpptes några månader efter Jet boy jet girl och gav Roger Jouret, under artistnamnet Plastic Bertrand, en flygande start på solokarriären med Ça plane pour moi – nu med en nonsenstext som fritt översatt passande nog lyder "Det går bra nu", för det var precis vad det gjorde…
ARVE Error: Mode: lazyload not available (ARVE Pro not active?), switching to normal mode

Plastic Bertrand – Ça plane pour moi
Blivande punkklassiker gör braksuccé
Låten lyckades, trots att den sjöngs på franska, bli en stor hit i flera europeiska länder; I Sverige nådde den plats nummer 12, i Österrike nr 19, i Bertrands hemland gick den upp till plats 11, i Storbritannien nådde den en 8:e placering, nr 6 i Tyskland, nr 4 i Irland, och nr 2 i Nederländerna. I Schweiz toppade låten listorna i en vecka och tog en förstaplacering på de franska listorna två veckor i rad. I Nya Zeeland gick den in på plats nr 7 och i januari 1979 gick den upp som 2:a i Australien. I USA gick den in som nr 47 på Billboard Hot 100, detta som tredje franskspråkiga låt någonsin (dom tidigare två var låten "Dominique" med den belgiska artisten The Singing Nun och det numera klassiska fransk/engelska stönsamarbetet mellan Serge Gainsbourg och Jane Birkin i "Je t'aime… moi non plus".
Sångbluffen:
Ça plane pour moi till d

omstol

Bråket om vem som verkligen sjunger på Plastic Bertrands version har pågått i åratal. Lou Deprijk, låtens kompositör påstod plötsligt efter nära 30 år att det var han som var den verkliga sångaren på låten. Roger Jouret – mannen bakom Plastic Bertrand – hävdade å sin sida med bestämdhet att det var han som sjöng. 2006 gick saken till domstol i Bryssel, där en lingvist lät tillbringa tre månader i studion åt att analysera rösten kom fram till att den som verkligen sjöng på låten var Lou Deprijk: "Jag var till och med beredd att raka av min mustasch men skivbolaget ville att den här killen med sin coola look skulle fronta låten" säger Deprijk. Roger Jouret (Plastic Bertrand) meddelade efter beslutet å sin sida att han tänkte stämma sin rival för förtal…
Efter ett tag kryper dock Plastic Bertrand till korset och erkänner att det faktiskt är Deprijks röst som hörs på inspelningarna:
"Jag blev manipulerad/ Jag lovades en halv procent av försäljningen och royalties "om jag knep käft". Allt jag behövde göra var att se cool ut och mima "mina" låtar".
Plastic Bertrand har även erkänt att det är den gamle disko samba-stjärnan Deprijk röst som hörs på alla fyra album, släppta mellan 1977 till 1981.
"Skandalen" blev den största i sitt slag sedan 80-tals-gruppen Milli Vanilli (med hitar som "Girl You Know It´s True", "Girl I Gonna Miss You" och "Blame it on the Rain"…) som under en konsert med 80 000 i publiken fick hack i skivspelaren och sanningen nystades upp att det inte var  grabbarna Fabrice "Fab" Morvan och Robert "Rob" Pilatus som stod bakom sången i bandet – varken på skiva eller livé. Ett avslöjande som bland annat innebar att Milli Vanilli blev fråntagna sin Grammy för bästa nya artist 1990.
Hitler får reda på sanningen om Plastic Bertrand:
Ça plane pour moi betraktas idag som en av de största (pop-)punkklassikerna. Låten har genom åren spelats in av en rad artister, bland annat Sonic Youth, Nouvelle Vague och Leila K. Låten har även ordagrant hyllats, bland annat av Joe Strummer, sångare i The Clash som ansåg att:
Plastic Bertrand, compressed into that three minutes a bloody good record that will get any comatose person toe-tapping, you know what I mean? By purist rules, it's not allowed to even mention Plastic Bertrand. Yet, this record was probably a lot better than a lot of so-called punk records.
Joe Strummer
Ordningen återställd: Lou Deprijck frontar själv i sin version från 2010:
https://youtu.be/fht2AqOovw0
Ca plane pour moi!


Dela:
[social_share_list]