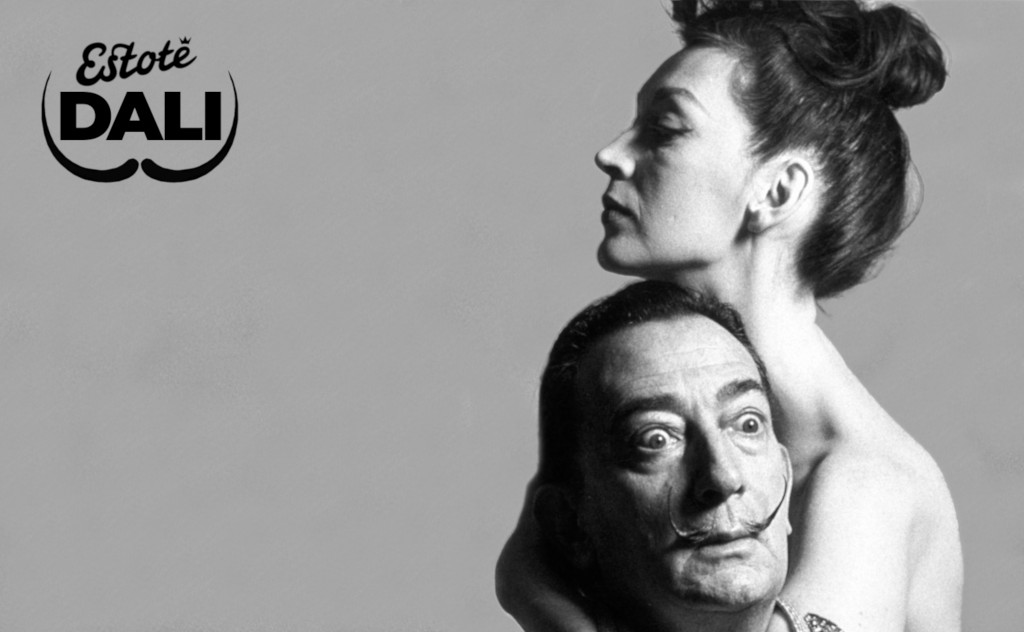 Dali & kärleken: Gala
Detta är berättelsen om passionerad kärlek, svek, sexuella orgier, galenskap och ett livslångt förhållande mellan en av vår tids största konstnärer och hans musa, manager och hustru Helena Dmitrievna Deluvina Diakonova, mer känd under namnet Gala: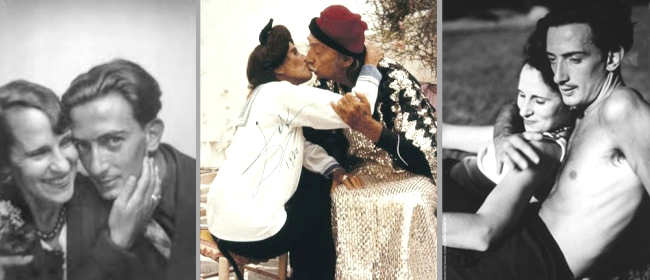 Salvador tillsammans med sin stora kärlek, frun Gala.
Blixtförälskelsen:
Gala + Salvador = sant


[dropcaps type='fat' font_size='85' color='#fcef02′ background_color=" border_color="]G[/dropcaps]ala och Dali möttes första gången 1929 då hon och maken, den surrealistiska poeten Paul Eluard* (som hon gift sig med 1917) och deras dotter Cécile var inbjudna av Dali att tillsammans med den belgiska poeten och galleriägaren Camille Goemans liksom konstnärerna René Magritte med fru och Luis Buñuel tillbringa sommaren i Cadaqués.

Salvador var vid tiden 24 år och Gala 10 år äldre. Båda blev blixtförälskade och Gala flyttade in permanent några månader senare. 1934 gifte sig paret borgerligt och 1958 trolovade de sig i ett katolsk bröllop (för vilket dom fick specialdispens från påven eftersom Gala tidigare varit gift).

* Paul Eluard var den som gav sin fru smeknamnet Gala.

[qode_simple_quote background_color="#fcef02″ simple_quote_text="Det är främst med ditt blod, Gala, som jag målar mina bilder" simple_quote_author="Salvador Dali" quote_symbol_color="#ffffff"]
Gala – mitt heroin
Dali var djupt förälskad i Gala sedan första stund. Han kallade henne sitt heroin. I början av 1930-talet började Dalí signera sina målningar med både sitt och Galas namn då han menade att hennes påverkan var mycket stor och bistod i att omdirigera hans fokus. Från och med nu agerade även Gala som Salvadors agent.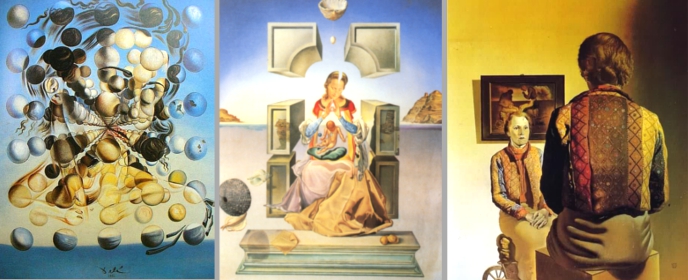 Galatea of the Spheres (1952), Madonna of Port Lligat (1949), Angelus of Gala (1935).
Gala förekommer ofta som modell i Dalis verk, några av dem ser du ovan. Ofta gestaltades hon i religiösa roller; så som exempelvis föreställande Jungfru Maria i målningen Madonnan i Port Lligat. Tavlorna visar stor kärlek och flera av dom är kanske de mest tillgivna och sensuella avbildningar som gjorts av en medelålders kvinna inom västerländsk konst.
Gala inspirerade även andra surrealistiska konstnärer, exempelvis Max Ernst (med vilken hon var tillsammans med 1922 – 1924) liksom poeten René Char och författaren René Crevel.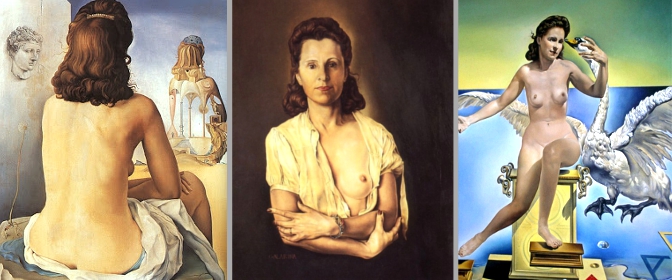 My Wife Nude (1945), Portrait of Galerina, (1940–45), Leda Atomica (1949).
Vaginaskräck & sexorgier
När Dali och Gala möttes lär Salvador varit oskuld – hans fobi för kvinnors genitalier var vida känd vid tiden. Galas aptit på män och sex lär dock tidigt varit stor och hon hade under hela sitt liv många utomäktenskapliga affärer (bland dem med sin före detta make Paul Éluard). Hon hade en förkärlek till unga konstnärer och i sin ålderdom gav hon ofta bort dyra presenter till dem som hon hade ihop det med. 
Dali var inte oskyldig han heller, han lär ha haft förhållanden med både män och kvinnor och deltog gärna i sexorgier. Riktigt stark konkurrens fick Gala när han skaffade sig sin andra musa i form av utvikningsbruden och diskostjärnan Amanda Lear (vilken vi ska återkomma till i en egen artikel).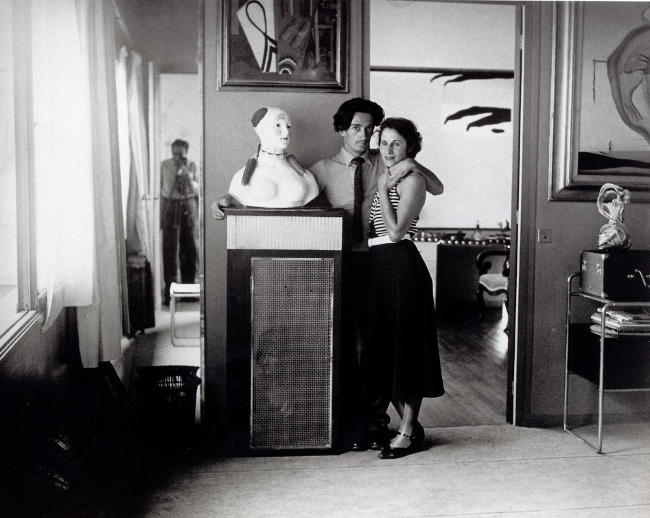 Salvador Dali & Gala 1932 (Foto: BRASSAÏ Gyula Halash).

[qode_simple_quote background_color="#fcef02″ simple_quote_text="Jag polerar Gala för att få henne att skina, göra henne så lycklig jag bara kan, tar hand om henne mer än mig själv, för utan henne skulle allt vara slut" simple_quote_author="Salvador Dali" quote_symbol_color="#ffffff"]
Galna Gala & separationsslottet
Ingenting varar för evigt: Även om Salvadors kärlek till Gala bestod så började deras forntida så passionerade kärleksrelation tyna bort i slutet av 60-talet. Vad det exakt berodde på kan man spekulera i, kanske var det av den enkla anledningen att kärleken bara försvann? (sånt händer ju) eller kan det kanske varit kopplat till Galas personlighet; hon beskrivs av många som både "grym och hård" och med en "blick som kunde döda". Hennes "demoniska humör" visade sig ofta; Om hon inte tyckte om någons spottade hon på dem och ville hon få tyst på någon som hon inte tyckte skulle prata fimpade hon cigaretten på deras arm. Hos konsthandlarna i Paris gick hon under öknamnet "Gala la Gale" (som betyder ungefär Gala den "ondskefulla" eller ""skabbiga"). Inte helt överraskande var hon väldigt illa omtyckt av många. Särskilt kvinnor ogillade henne. Gala var sexuellt omättlig och hade heller ingen respekt för andras relationer. Samtidigt beskrivs Salvador vid tiden som närmast impotent. Dessutom lär Gala ha varit besatt av Salvadors pengar. Och ja, Dali var ju som han var.
Med tiden levde de sina liv allt mer på varsitt håll, Salvadors kärlek till Gala är dock något som består. 1968 köpte Dali ett medeltida slott till Gala i Púbol, Girona. En plats Dali själv inte hade tillgång till utan ett skriftligt tillstånd från Gala: 
"Jag ger dig ett gotiskt slott som gåva, Gala.
Jag accepterar, med ett villkor, vilket är:
Jag kommer bara att besöka dig på slottet genom en inbjudan.
Jag accepterar, eftersom jag accepterar i princip allt,
förutsatt att det finns villkor.
Det är villkoren för hövisk kärlek".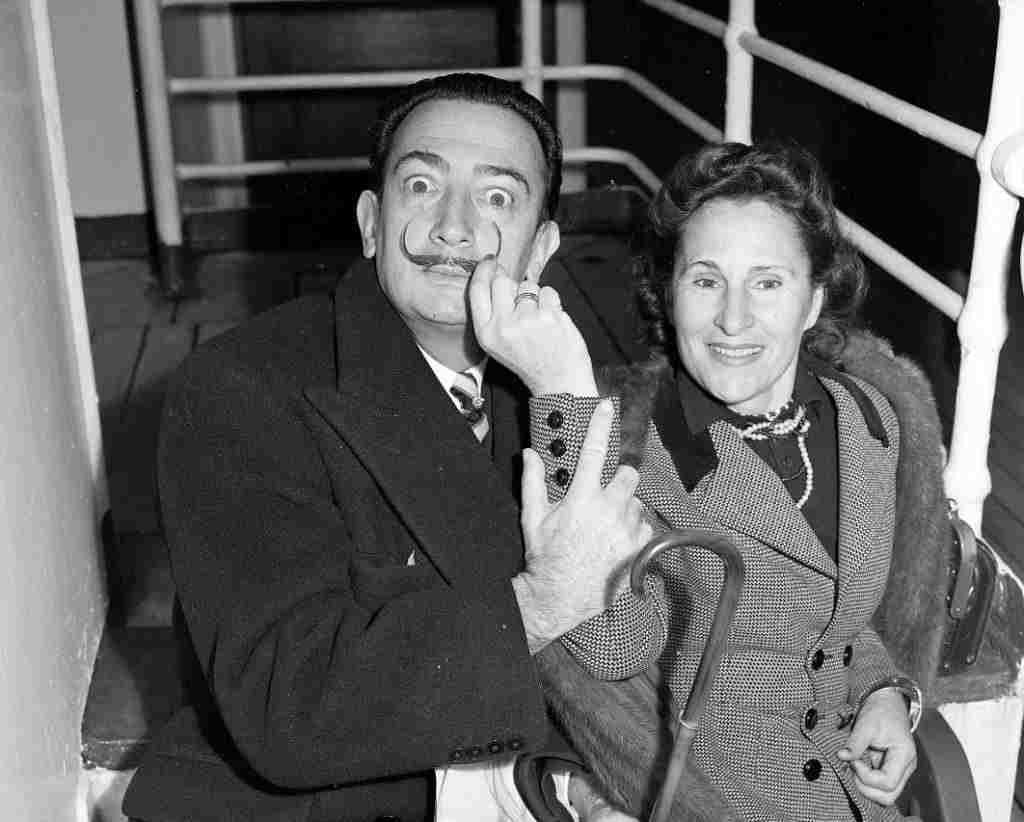 Som han skriver i The Unspeakable Confessions (1973), var slottet ett kärleksbevis:

[qode_simple_quote background_color="#fcef02″ simple_quote_text="Allt firar kulten av Gala/ Jag behövde erbjuda Gala en högtidligt värd för vår kärlek. Därför gav jag henne en herrgård som byggdes på resterna av ett slott från det 12: e århundradet: Púbolas gamla slott i La Bisbal, där hon skulle regera som en absolut suverän/ Jag begränsade mig till nöjet att dekorera taken, så att hon, när hon tittar upp, alltid skulle tänka på mig." simple_quote_author="Salvador Dali" quote_symbol_color="#ffffff"]

På slottet tillbringade Gala mycket av sin tid tillsammans med unga män, på vilka hon spenderade en förmögenhet. Salvador i sin tur började vid tiden umgås med unga, snygga kvinnor. Det lär ha hållits veckolånga sexorgier, detta dock utan att Salvador själv aktivt deltog i aktiviteterna – förutom att titta på. Det sägs att det enda han ville ha av kvinnorna var deras skönhet.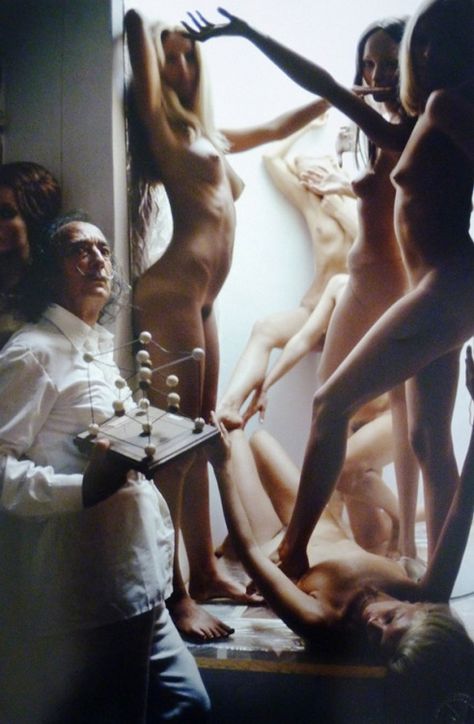 Misshandel och droger
År 1980, vid 76 års ålder, tvingades Dali att gå i pension på grund av att han insjuknade i Parkinsons sjukdom, vilket innebar att han fick motoriska störningar som gjorde honom oförmögen att hålla i en pensel. I takt med att hans tillstånd förvärrades fick han också allt svårare att tolerera Galas fria leverne. En dag gick Dalis humör överstyr och han slog henne så illa att hon bröt två revben. För att lugna ner honom drogade Gala honom i fortsättningen med stora doser Valium och andra lugnande medel av "okända kvantiteter av en eller flera typer av amfetamin", vilket gjorde honom letargisk, det vill säga försatte honom i ett sömnliknande slöhetstillstånd, vilket orsakade bestående nervskador.
Black Sabbaths sångare & Galas bortgång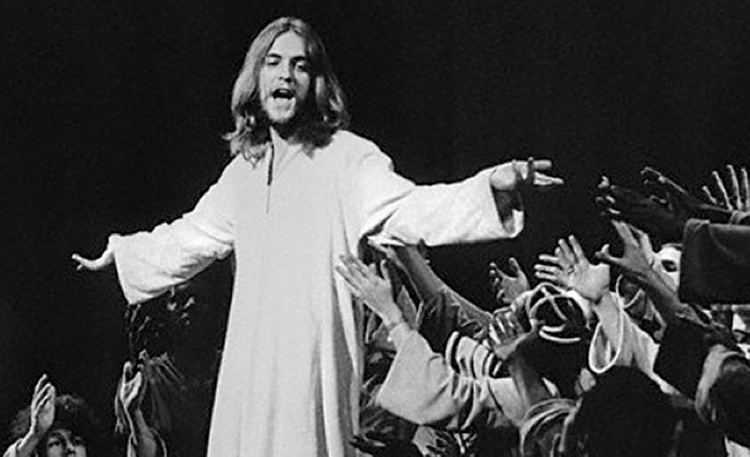 Galas unga älskare Jeff Fenholt i Jesus Christ Superstar
Vid tiden för sin död hade Gala lämnat Salvador och hade en relation med den 22-åriga Jesus Christ Superstar-skådespelaren och rocksångaren Jeff Fenholt (under en kort tid bland annat sångare i Black Sabbath) – Gala påstås ha överöst honom med gåvor; bland annat Dali-målningar och ett hus på Long Island värt över en miljon dollar. Fenholt blev också genom Galas försorg företrädare för Salvador Dalis konst i USA och höll bland annat i försäljningen av verk till Alice Cooper (ett hologram) och till bandet The Grateful Dead.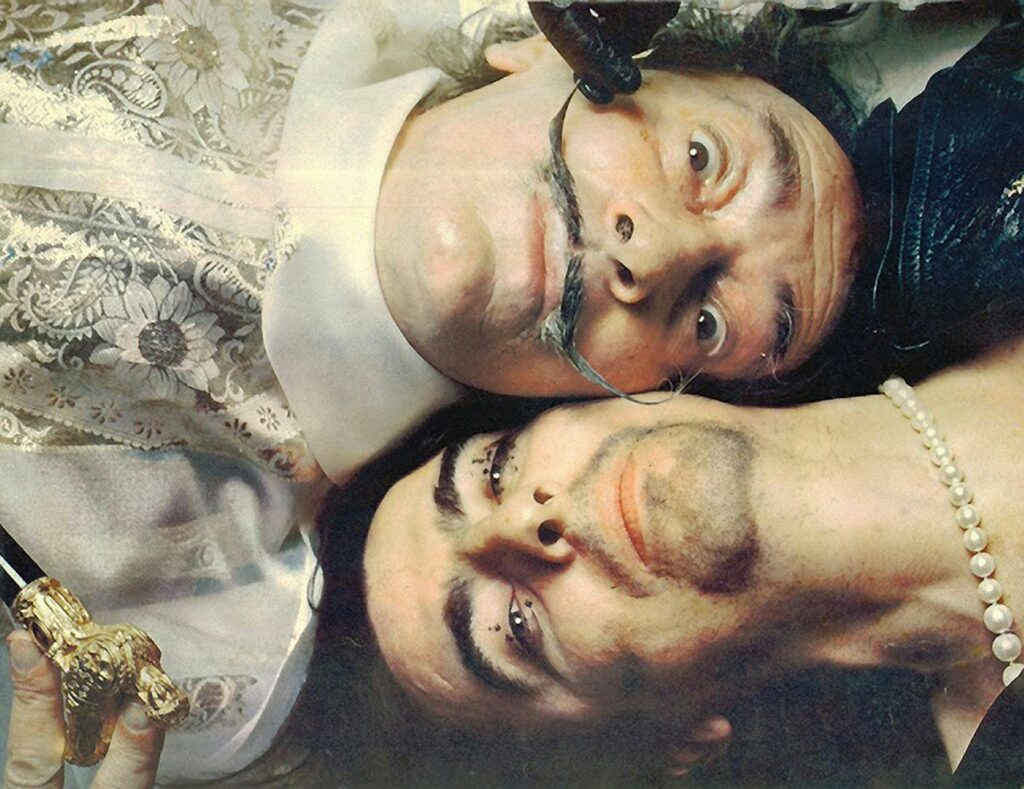 Dali och Alice Cooper
Enligt Fenholt lär Gala berättat för honom från sin sjukhusbädd i Spanien att Dali hade överfallit henne och slagit ner henne så illa att hon bröt höften, vilket senare skulle resultera i hennes död.
Lyssna på Jeff Fenholt & Black Sabbath HÄR!
Gala Dali dog den 10:e juni 1982, 87 år gammal. Hon ligger begravd i Castle of Púbol eller Gala Dali Castle (dvs slottet Salvador skänkte henne). Den officiella orsaken till hennes död är att hon drabbades av en allvarlig influensa.
Salvadors stora kärlekssorg
Salvador och Gala hade som konstaterat tidvis ett mycket stormigt äktenskap,  trots detta fanns ändå något oövervinnerligt som kedjade dem samman:
Efter Galas död flyttade Dali in i Galas slott i Púbol, låste in sig, drog för gardinerna och vägrade att äta eller dricka. Han nekade tillträde till sina vänner och assistenter och förbjöd någon att överhuvudtaget nämna Galas namn. Även om han med tiden kommit att förakta Gala hade han svårt att fungera utan henne. En av hans sköterskor har beskrivit hur han ständigt hördes snyftande och ylade av sorg liksom att han "…drabbades även hallucinationer och trodde att han var en snigel".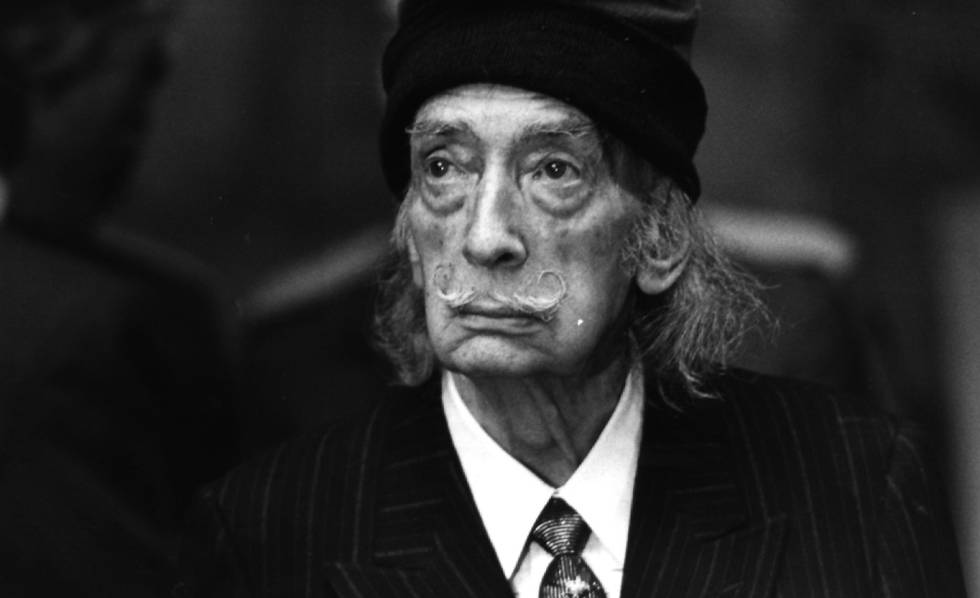 Salvador Dali på ålderns höst. Foto: Antonio Espejo.
Dali överlevde sin hustru med sju år. De hade en relation i 53 år. Salvador dog den 23:e januari 1989 vid 84-års ålder och är begravd i en krypta under det som numera är museet Teatro Museo Dalí sin hemstad Figueres i Katalonien, Spanien.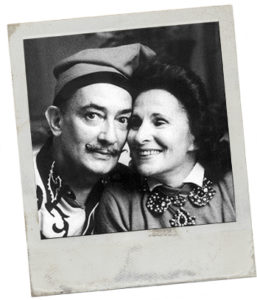 EXTRA EXTRA: Dalis Grav öppnad: Mustaschen intakt
Den spanska spåkvinnan Maria Pilar har i tio års tid hävdat att hon är Salvador Dalis okända och enda barn. Pilar påstår att Salvador haft en affär med hennes mamma samtidigt som han var gift med Gala. För att lösa fallet grävde man 2017, efter ett domslut, upp Salvador Dali ur sin grav för att genomföra ett faderskapstest. Genom uppgrävningen kunde man konstatera att hans karaktäristiska mustascher 27 år senare inte bara var intakta utan även pekade i den "klockan tio över tio"-vinkel han brukade styla den i. Att den var så välbehållen beror på att Salvador balsamerades innan gravsättningen. Faderskapstestet visade att Pilar inte var Salvador Dalis dotter. Hade så varit fallet hade hon haft rätt till en fjärdedel av Dalis kvarlåtenskap. En ansenlig förmögenhet från en konstnär vars verk idag klubbas för hundratals miljoner kronor på auktion.
Läs även: "Dali: Avida Dollars & reklamen" med bland annat historien om Dalis ikoniska mustasch, om hans medverkan i flera osannolika reklamfilmer och om dvärgleoparden Babou.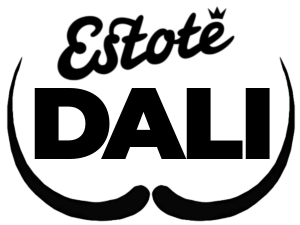 Dela:
[social_share_list]